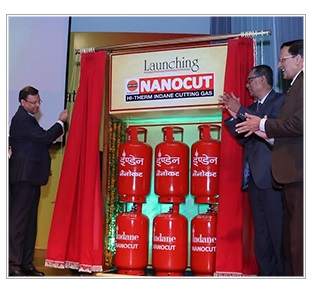 In another pioneering move, Indian Oil Corporation, India's flagship energy major, has introduced Indane NANOCUT, a high-therm cutting gas for industrial applications in metal cutting segment. While launching the product, B Ashok, Chairman, IndianOil, said, "The breakthrough nanotechnology additive developed by IndianOil R&D Centre shall give a huge boost to the use of LPG in metal cutting segment. For the first time in India, there is a product available that is technically superior with high flame temperature advantage, and is a much safer option within this industry segment." Chairman added that the customers themselves have certified the effectiveness and efficiency of the product during the extensive field trials conducted by IndianOil.
The metal cutting market in India will be revolutionized with the entry of Indane NANOCUT, a cutting-edge technology that is cost-effective as well as environment-friendly. Packed in 19 kg cylinders, Indane NANOCUT shall be available through the extensive distribution network of Indane distributors across India. The innovative product has been developed indigenously by IndianOil's Research & Development Centre. The superior performance of the product has been proven through the extensive field trials and testing in prestigious laboratories over the last few years. The product ensures faster, cleaner and sharper cuts, with reduced slag and wastage at a thermal temperature that is much higher than the similar products available in the market. Emitting soot-free and low-glare flame at lower operating pressures, this technically advanced product has low oxygen consumption and heat throughput, and thus is a more environment-friendly option for the end-users and compatible with both automated and manual hand-held torch systems. A product that can be easily transported and stored at site, Indane NANOCUT is a much safer alternative for metal cutting applications as compared to the conventionally used oxy-acetylene, which is fraught with the potential hazard of explosion during usage/ storage. Indane is today one of the largest packed-LPG brands in the world. Its reputation is built on the bedrock of trust that Indane has developed with successive generations of users. Its multi-pronged platform of Safety, Convenience and Reliability has been an integral part of the brand's growth and success.
Kindly download this file.


Download Brochure


Our Products
Fuel Products
Non-Fuel Products
24x7 Services:
IVRS Booking:

097813-24365

Leakage Complaint Helpline:

1906
Services
Visit us
RAJINDRA GAS SERVICE
Rajbaha Road (Lehal), Behind Punjab & Sindh Bank, Near Harbans Cinema, Patiala
Phone No:
+91-175-2213324,
Phone No:
2213345 , 2223346
Mobile No:
+91- 97819-23827
Our Hours
Mon-Sat-

09:00 AM - 05:00 PM

Sunday

Closed

Total Visitors
---
©2016 RAJINDRA GAS SERVICE.All Right Reserved.
Designed By:Indiadialing.com Mob:+91-96460-40485