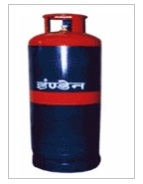 IndianOil markets Industrial LPG cylinders in 47.5 Kg capacity. The Industrial LPG cylinders are available at market rates and customers can avail of the superior energy efficiency of LPG in their industrial and fabrication works like cutting, welding, heating etc.
Our Products
Fuel Products
Non-Fuel Products
24x7 Services:
IVRS Booking:

097813-24365

Leakage Complaint Helpline:

1906

News

Deprecated: mysql_connect(): The mysql extension is deprecated and will be removed in the future: use mysqli or PDO instead in /home/rajindragas/public_html/footer.php on line 192

Latest News
Services
Visit us
RAJINDRA GAS SERVICE
Rajbaha Road (Lehal), Behind Punjab & Sindh Bank, Near Harbans Cinema, Patiala
Phone No:
+91-175-2213324,
Phone No:
2213345 , 2223346
Mobile No:
+91- 97819-23827
Our Hours
Mon-Sat-

09:00 AM - 05:00 PM

Sunday

Closed

Total Visitors
---
©2016 RAJINDRA GAS SERVICE.All Right Reserved.
Designed By:Indiadialing.com Mob:+91-96460-40485