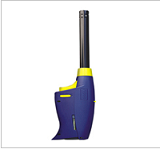 The flame type Gas lighter has inherent advantages over conventional spark type gas lighters. Flame type Gas Lighters are more safe and can also be used to light the candles, Lamps, incense sticks, lanterns etc. The Flame type Gas lighter is tested for 2500 strokes with one refill i.e. with one refill, it will last for 3 months in an average household. A reserve stock of LP Gas cylinder of 100ml capacity which can refill the lighter 8 to 10 times is also being offered along with the Lighter.
Our Products
Fuel Products
Non-Fuel Products
24x7 Services:
IVRS Booking:

097813-24365

Leakage Complaint Helpline:

1906
Services
Visit us
RAJINDRA GAS SERVICE
Rajbaha Road (Lehal), Behind Punjab & Sindh Bank, Near Harbans Cinema, Patiala
Phone No:
+91-175-2213324,
Phone No:
2213345 , 2223346
Mobile No:
+91- 97819-23827
Our Hours
Mon-Sat-

09:00 AM - 05:00 PM

Sunday

Closed

Total Visitors
---
©2016 RAJINDRA GAS SERVICE.All Right Reserved.
Designed By:Indiadialing.com Mob:+91-96460-40485