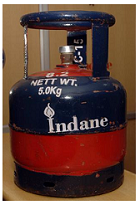 Government has allowed the sale of 5 Kg LPG cylinder with / without Domestic Pressure Regulator (DPR) through Public Sector Oil Marketing companies (OMCs) Retail outlets, which are accessible to all and are open for longer hours. Subsequently sale of 5 Kg FTL cylinder has been extended to LPG distributorship points and Kirana /General stores etc also to further convenience of the target consumers.,
The LPG sold under the scheme will be called Free Trade LPG (FTL). At the time of first sale cost of equipment (DPR plus cylinder), cost of product at prevailing Non-domestic 5 Kg cylinder price and administrative charges will be payable. At the time of subsequent refill, only the cost of product will be payable. We understand your need to have the flexibility to buy cylinders at will. Now you have the freedom to buy 5 kg cylinders at your convenience in select cities. 5 kg LPG cylinders at market price are available with just your Proof of Identity (POI) from Retail Outlets (Petrol Stations) and selected Distributorships & Kirana/General stores.
Our Products
Fuel Products
Non-Fuel Products
24x7 Services:
IVRS Booking:

097813-24365

Leakage Complaint Helpline:

1906
Services
Visit us
RAJINDRA GAS SERVICE
Rajbaha Road (Lehal), Behind Punjab & Sindh Bank, Near Harbans Cinema, Patiala
Phone No:
+91-175-2213324,
Phone No:
2213345 , 2223346
Mobile No:
+91- 97819-23827
Our Hours
Mon-Sat-

09:00 AM - 05:00 PM

Sunday

Closed

Total Visitors
---
©2016 RAJINDRA GAS SERVICE.All Right Reserved.
Designed By:Indiadialing.com Mob:+91-96460-40485